Upcoming module changes
We are moving this module to a new platform for Semester 2, 2023.
Benefits of the new platform: 
Improved accessibility – the module can be downloaded in a range of formats.
Teaching staff can embed the module in Learn.UQ courses at the point of need.
Completions of the final H5P module quiz can be checked when downloaded and embedded in a course.
Try the new version of the module now!
Teaching staff – Find out how to use the Digitals Essentials modules in your courses.
If you have any questions, please email the Library's Digital Learning team - dxdc@library.uq.edu.au.
Aims and objectives
This module will:
explore the digital footprint you leave online
explore different social media platforms and their uses.
After completing this module, you will be able to:
understand privacy concerns when using social media
use social media effectively to enhance learning and improve your online brand.
6. Social media around the world
When many people in Australia think of a social media platform, Facebook, Twitter and Instagram come to mind. However, not everyone has access or wants to use these platforms. Many countries have their own popular platforms for keeping in contact with family and peers, entertainment, news and business content.
Benefits of using social media platforms not commonly used in Australia
Develop overseas networks
Build a wider audience
Collaborate with people with common interests, who don't or can't use the social media platforms you use
Make more friends in distant places
Practise a different language or help others learn your language.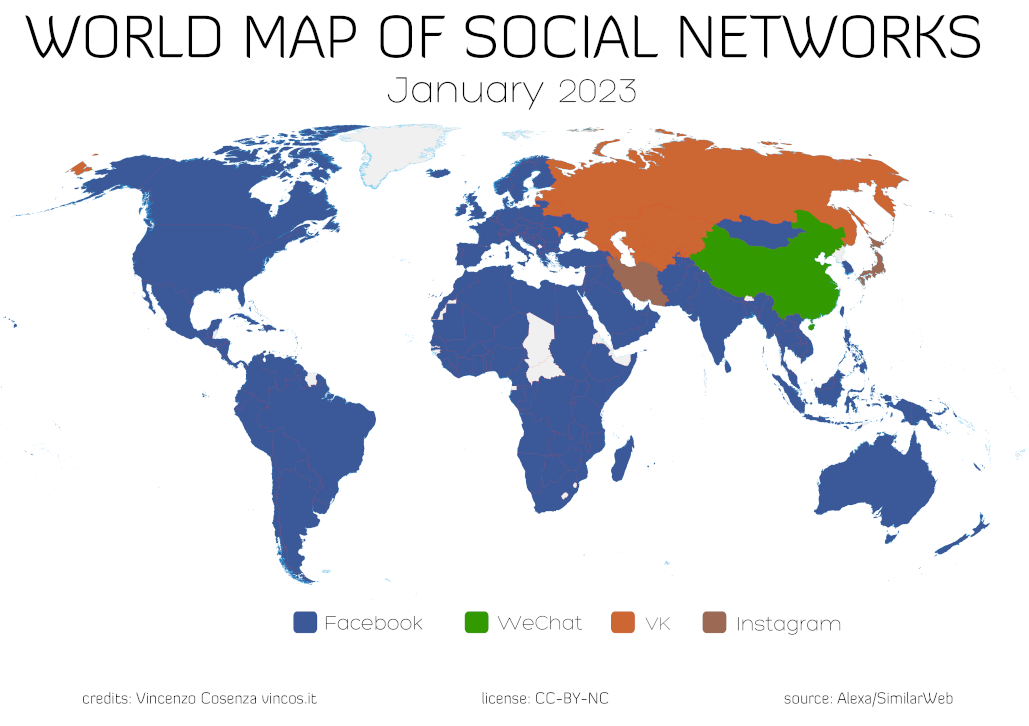 Popular social media outside Australia and New Zealand
WeChat
As of March 2018, WeChat is used by over one billion people every month and is the most popular social media app in China. WeChat has become an invaluable and convenient tool for messaging, reading articles, accessing products, playing games, and much more. WeChat has also been increasing its international profile with more Australians starting to use it.
One day of WeChat (YouTube, 1m43s)]
Baidu Tiebu
Baidu Tiebu, very similar to Google, is China's most popular search engine. It is also a discussion forum where people can get together and exchange information on almost anything. Users search by keywords to see and participate in discussions.
Vk
Previously known as VKontakte, Vk has the strongest social media presence in Russia with 46.6 million monthly users. It contains similar functionality to Facebook, where users create a profile, follow others and create networks..
Weibo
Sina Weibo, or Weibo, is known as the "Chinese Twitter" and has over 503 million registered users. It is often compared to Twitter because of its microblogging feature which allows users to write posts, share images and videos.
Hike
Hike is an Indian messenger based platform that allows users to send, stickers, photos and video messages. Since 2015 it has included a voice calling feature.
Taringa
Taringa is a social media platform with an estimated 27 million users geared toward Latin American and Spanish speaking users. Content is split into topics in a way familiar to users of Reddit and Facebook.
Kakao Talk
Kakao talk is a messenger app that allows users to share photos, video, text and voice messages. The app has additional features, such as unlimited group chats, as well as working as a games platform.
Q.Q.
In 2014 Q.Q. (also called QQ) set a Guinness world record for having the largest number of users at the same time on an instant messaging site. It has more than 800 million monthly active users and 60% of users are under 30 years old. This platform can be used for blogging, emailing, playing games as well as instant messaging. If you are interested, here is quick video on how to set up a Q.Q. account online (YouTube, 1m30s).
Many of us take social media platforms for granted but did you know that the use of social media is regulated and in some cases banned outright? If you were to travel or live overseas how might this affect your current use of social media?
Duration:  
Approximately 20 minutes
---
Graduate attributes
Knowledge and skills you can gain to contribute to your Graduate attributes:
 Effective communication
 Ethical and social understanding
---
Check your knowledge
Check what you know about this topic: